The Moors
The grain of the Bodmin Moor landscape reflects the granite dominance. Standing stones, burial chambers, Cornish hedges, clapper bridges, cottages and farms are all built from the boulders which have, over the centuries, been cleared from the surface of the moor.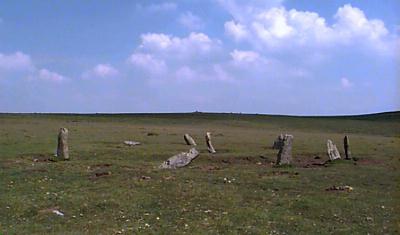 Yet the Moor is surprisingly small, extending just ten miles by ten miles. The sweeping expanses of moorland and the lack of features give the impression that the upland covers a much larger area. Equally, the wealth of archaeological remains and the relatively few signs of the twentieth century create the illusion of timelessness.
Though Bodmin Moor covers a comparatively small area, the open, gently curving nature of the plateau landform, punctuated by rocky tors, creates a surprising sense of scale, remoteness and even desolation. These qualities combined with the impression of timelessness, contribute to the Moor's distinctive, often challenging, character. Though many of the roads are now paved, and access by car makes visiting the Moor easy, it is a still a landscape where the traveller can be faced with the natural environment in its most elemental form, where the unwary may easily become lost among the bogs in swiftly descending clouds and mist.
The Moors
The History of the Moors

A brief outline of the history of Bodmin Moor from the Stone Age to present day

~

The landscape and features

Indepth information about the landscape and the factors that have had shaped it, including a map of the key features

~

The Lords of the Manor

All of Bodmin Moor is privately owned and the landowners are known as the 'Lords of the Manor'. Here is a detailed look into the history and their rights.

~

Common Rights

A detailed look at the history of the Rights of Common which have their roots in medieval times

~

The Parishes & Villages

Histories, pictures and village pages for all the parishes on Bodmin Moor.

~

The Rivers of Bodmin Moor

with its extensive areas of peat bog and clear feeder streams, Bodmin Moor is the source of many of the county's principal rivers, the Fowey, Camel and De Lank, as well as the Ottery, Inny and Lynher which flow into the Tamar
Local History
The South Caradon Mine Home Page

The Home page for the disused South Caradon Mine, an important industial history site. Contains photographs of the engine house remains

~

University College London

The results of in-depth research by the Department of Anthropology and Institute of Archaeology into a Bronze Age village on Bodmin Moor at Leskernick
Buy a map of the area online with www.amazon.co.uk
Ordnance Survey Explorer Map 109
Bodmin Moor

Click on the title above to take you straight to www.amazon.co.uk where you can purchase a copy of the definitive map for Bodmin Moor and have it delivered quickly and safely to your door for less than it will cost you to buy it in the high street.