The History of the Moors
At one time almost the whole moor would have been forest land but from around 10,000BC small groups of people, who wandered the land hunting and gathering began clearing the area so that animals would be encouraged to graze, and so make hunting easier. Over time the trend of life became more settled and people set up home in groups, hunting and farming the land (circa 2500-600 BC).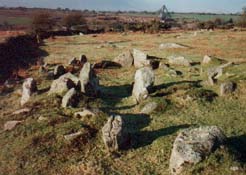 During the Bronze age most of the area was cleared and clear evidence remains of different aspects of life in this age - fields, farms, burial places and 'ritual sites' (stone rows, circles and standing stones).
These early farmers created what we today call fields, these were long strips of land with boundaries of low stony banks known as reaves.They form blocks of land which became a territory or estate for a particular group of people living in a settlement or ?village?. Inside these banks animals were grazed and crops grown. Dotted around in these fields, which are still visible, are the remains of hut circles which are round dwelling houses where the farmers lived.
For well over a thousand years now the moor has been traditionally used for summer grazing of livestock which has overwintered in the enclosed farms adjacent to the moors. The origins of common land rights stretch back to time immemorial. In medieval times rights were strictly regulated and land owners appointed officials known as Reeves to check abuses.
Common rights today are regulated by The Commons Registration Act of 1965 which required the registration of all common land nationally and the extent and nature of the rights held. Apart from the right to graze livestock some of the more ancient rights covered are,
Turbary - the right to take turf for fuel for domestic use.
Estovers - the right to take underwood or branches for fuel or repairs or to take sand, gravel or stone for use on the commoner's holding.
Pannage - the right to allow pigs to eat acorns and beech mast.
At present Bodmin Moor contains some 500 holdings with about 10,000 Beef Cows, 55,000 Breeding Ewes and about a 1,000 Horses and Ponies. The ponies have always been an important part of farming life on Bodmin Moor as the only practical way to manage the livestock over such a wide area has been on horseback.
The Moors
The Lords of the Manor

All of Bodmin Moor is privately owned and the landowners are known as the 'Lords of the Manor'. Here is a detailed look into the history and their rights.

~

Common Rights

A detailed look at the history of the Rights of Common which have their roots in medieval times

~

The landscape and features

Indepth information about the landscape and the factors that have had shaped it, including a map of the key features
Local History
University College London

The results of in-depth research by the Department of Anthropology and Institute of Archaeology into a Bronze Age village on Bodmin Moor at Leskernick
Local Heros
John Couch Adams

The story of how John Couch Adams discovered the presence of Neptune by applying Newtons laws of gravitation to the orbit of Uranus