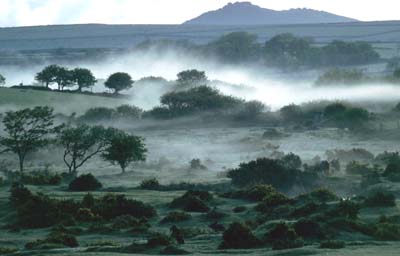 Photo courtesy of Tim Knight
Tel: 01208 821539
A wild and rugged area steeped in history, Bodmin Moor has more than its fair share of myths and legends - from its strong connections to the stories of King Arthur right up to present day reports of farmers livestock being hunted down by the Beast of Bodmin Moor.
Since 1983 there have been over 60 reported sightings of a big cat on Bodmin Moor. This still taken from some video footage shows an animal which is some three and a half feet in length. Despite an inconclusive enquiry by the government many locals remain convinced that there is one or more big cats at large on the moors.
In November 1999 a squadron of Cornish RAF reserves spent a night on the moors trying to track the beast with the lastest hi-tech military night-vision equipment. Unfortunately bad weather hampered their operation, but they will be back again - the hunt continues...
The connection with King Arthur may be a bit more tenuous but nevertheless the possibilty of Camelot being in Cornwall remains a strong one.
The high windswept aspect of Dozmary Pool may not fit easily with popular romantised vision of the lake into which the dying Arthur instructed Sir Bedivere to cast Excalibur.
However little is actually known of the Dark Ages - certainly the legendary King and his knights would have not have been clad in chain mail roaming about the country on heavy horses. But in the sixth century Arthur certainly maintained a fierce struggle against the Anglo-Saxon invaders and the many stories of the deeds of the knights of the round table remain as popular today as they ever were.
Now we come to one of Cornwalls most famous ghost. On Sunday 14th April 1844 Charlotte Dymond was found murdered on the slopes of Roughtor. Her lover, a crippled farmhand called Matthew Weeks was later hanged at Bodmin Gaol for the crime. Since that time, and especially on the anniversary of her death, Charlotte has been seen walking in the area, clad in a gown and a silk bonnet. There is a memorial stone at Roughtor Ford which marks the site of her murder and her grave lies in the churchyard at Davidstow.
The Moors
The History of the Moors

A brief outline of the history of Bodmin Moor from the Stone Age to present day

~

The landscape and features

Indepth information about the landscape and the factors that have had shaped it, including a map of the key features

~

The Lords of the Manor

All of Bodmin Moor is privately owned and the landowners are known as the 'Lords of the Manor'. Here is a detailed look into the history and their rights.

~

Common Rights

A detailed look at the history of the Rights of Common which have their roots in medieval times

~

The Parishes & Villages

Histories, pictures and village pages for all the parishes on Bodmin Moor.

~

The Rivers of Bodmin Moor

with its extensive areas of peat bog and clear feeder streams, Bodmin Moor is the source of many of the county's principal rivers, the Fowey, Camel and De Lank, as well as the Ottery, Inny and Lynher which flow into the Tamar