This report is based on the results of a survey of the boundary stones on the Blisland Commons, Bodmin Moor, Cornwall and covers the parish of Blisland as well as parts of St Breward, Temple and St Neot.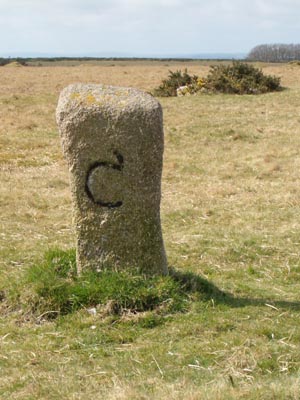 The report records the distribution of these boundary stones and attempts to identify why, where and when they were erected. It also sets out to identify the letters and symbols on each stone with the names of landowners and local manors that they represented.
Furthermore it records the practical work that took place to re-erect fallen boundary stones, and name each common on a granite boulder. Finally, it also gives a summary of the associated school project, which included a field trip, classroom work and practical art work.
Each chapter or section is downloadable as a pdf either with photos (for broadband connections) or as plain text (suitable for dial-up connections). Please right click and select "save as..." on either broadband or dial-up to save the report to your PC.
Cover and contents

Broadband

Dial-up
Chapters 1 - 4 : Indtroduction, background, methodology and research
The Blisland Commoners Association manages fourteen historic areas of moorland, commons and downland that constitute ten areas of registered Common Land in the parishes of Blisland, St Breward, Temple and St Neot (formerly Cardinham detached) on Bodmin Moor, Cornwall.
Both natural and man-made features bound these areas of moorland. The natural features include rivers, streams and outcrops of rock, while the man-made features include archaeological remains, hedges, banks and boundary stones.

Broadband

Dial-up
Chapter 5 : Trehudreth, Greenbarrow and Newton Downs
Trehudreth Downs is situated on the northern side of the A.30 highway from Bodmin to Launceston, four and a half miles from the former, and one and a quarter miles south-east of Blisland churchtown.
Both Trehudreth and Greenbarrow Downs are rich in archaeological features. Many of the boundary stones on the western side of Trehudreth Downs stand on earlier medieval banks. These earth banks, which have evidence of ditches on each side, marked the boundaries of a medieval field system and one can still identify ridge and furrow plough marks running west to east across some of the old fields.

Broadband

Dial-up
Chapter 6 : Kerrow, Metherin and Pendrift Downs
Kerrow Downs are situated approximately one and a half miles north-east of Blisland churchtown and adjoins Metherin Downs to the south. Together they are registered as Common Land no. 184 and are estimated to be 347 acres.
Both Kerrow Downs and Metherin Downs consist of undulating ground with gently rolling slopes, while Pendrift Downs slopes sharply running down to the De Lank river. From the Penquite side of Kerrow Downs there are distant views west to the Camel Estuary with, to the east, Manor Common and to the north-east, views of Carbilly and Carkees Tors.

Broadband

Dial-up
Chapter 7 : Emblance Downs and Lady Down
Emblance Downs is situated two miles east of St Breward churchtown and to the west of Lady Down which it formerly adjoined. Both Emblance Downs and Lady Down are registered together as Common Land no.124 and are estimated to be 402 acres in total.
Emblance Downs is a broad sweep of downland that gently rises from Ivey's Plain in the south to the manorial boundary of Blisland with Hamatethy on the northern horizon. Here, King Arthur's Hall is a prominent landscape feature that can be seen from all parts of the common.

Broadband

Dial-up
Chapter 8 : Manor Common and Menacrin Downs
Blisland Manor Common is situated five and a half miles north-east of Bodmin, beside the north side of the A.30 highway leading from Bodmin to Launceston. Menacrin Downs is situated and adjoining the eastern side of Manor Common and is within the parish of Temple.
The common is a gently undulating broad ridge over which a minor road crosses from the A.30 towards Bradford and beyond. On the western side, Manor Common slopes down to a stream that divides the common from Newton Downs and Greenbarrow Downs and to the north-west, to the inbye land around the farms of Deacons and Treswigga.

Broadband

Dial-up
Chapter 9 : Shallow Water, Brockabarrow Common and Sprey Moor
Shallow Water Common is situated to the north of and adjoins Brockabarrow Common, which is seven miles north-east of Bodmin on the north side of the A.30 Bodmin to Launceston road. Adjoining Brockabarrow Common to the east is Sprey Moor, bounded by a stream that runs between them. These three areas of common are the remotest and highest of the Blisland Commons, situated in the north eastern corner of Blisland parish.
The western boundary of Shallow Water Common consists of a marshy valley where the Warleggan River (River Bedalder) rises and separates Shallow Water Common from Hawkstor Downs. The northern boundary meets Scribble Downs where it is divided by a hedge and fencing. The eastern boundary follows the line of a stream dividing it from Butterstor Downs (alias Bottreaux Tor) and the stream to the west of the forest at Priddacombe.

Broadband

Dial-up
Chapter 10 : Trencreek Downs
Trencreek Common is situated three miles north-west of Bodmin and adjacent to the A.30 highway from Bodmin to Launceston. This very small area of common is triangular in shape and is bounded by the A.30 highway on the south-east, by a minor road leading to Blisland from the A.30 to the north-west, and an old track to the east that joins the two roads.
The whole area is completely covered in gorse and the track, which once linked the two roads, is today impassable. The small area is so densely scrubbed over that no landscape features can be identified and it is virtually impossible to walk through.

Broadband

Dial-up
Chapter 11 : The Landowners
Who were the landowners who put their marks to the boundary stones? Throughout this report references have been made to various landowners and the letters they had carved on these boundary stones to indicate ownership of land.
A brief biography is presented below for those landowners that have left their marks or initial on these granite posts. Here the writer has concentrated purely on the period when the boundary stones were likely to have been set up, from the late eighteen century through to the beginning of the twentieth century. Several of these men were prominent and important figures in the nineteenth century Cornwall.

Broadband

Dial-up
Chapter 12 : Practical Work
As part of the boundary stone project, it was agreed that every effort would be made to re-erect all the boundary stones that were discovered lying down or leaning at an acute angle. In most cases these stones have been used by cattle as rubbing posts. The animals' continuous trampling around the stones had lead to hollows being formed that filled with water, while the sheer weight of the animals was enough to push over the boundary stones.
To date, the project team has discovered nineteen boundary stones lying down or leaning at an acute angle, or these twelve have been re-erected, giving priority to those which are more accessible, while further stones will be re-erected during the summer of 2006. With the current grazing regulations that restrict the number of cattle on the moors and their removal during winter months, the team hopes that once re-erected these boundary stones will not be threatened to such an extent by the cattle in the future.

Broadband

Dial-up
Chapter 13 : Creative Arts Project with Blisland School
The main aims of this element of the boundary stone project was to generate a greater sense of place between the pupils of the local school and their parish. This involved two distinct phases, one based on the written word, poetry, prose and the production of a calendar led by poet and author Victoria Field while the second was a practical project creating a boundary stone out of metal with artists and sculptors Gary and Thomas Thrushell.

Broadband

Dial-up
Chapter 14 : Conclusions
These boundary stones, although not ancient, are clearly important historical and landscape features of Bodmin Moor and have been neglected for many years. Right at the outset of this project it has become clear that few landowners or commoners knew what the stones represented or how many there were and further research is required to asked many of the questions that remain unsolved.
When this project was first considered in 2004, it was suggested that there were no more than fifty boundary stones on Blisland Commons, and the project was developed around this estimate. However, by the time the project was well under way and the desktop survey was completed, it was realised that, on paper at least, there were almost three times as many. The final total numbered 145, plus one modern waymarker/boundary stone and of these, 101 have been found and recorded, while 44 remain missing.

Broadband

Dial-up
Appendices part 1 : Data sheets recording all boundary stones

Broadband

Dial-up
Appendices part 2 : Stones, bounds, place names & bibliography

Broadband

Dial-up