St Neot & Warleggan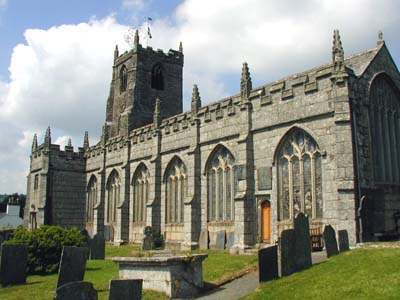 Some of the best grazing land on the moor and the mining of tin, copper and silver have ensured that St Neot has remained one of the most prosperous parishes on the moors over the centuries. The parish church which is dedicated to Saint Neot contains a magnificent series of 15th century stained glass windows depicting several bible stories. These where restored in 1830 and amougst scenes showing the Creation and Cain and Able, is one window which relates a miricle performed by St Neot himself.
A short distance away are the Carnglaze Slate Caverns which are the only underground slate quarrying in Cornwall. Worked for over 500 years the spectacular caverns and underground lake are open to the public throughout the year (except Sundays) for an addmission fee.
The village of Warleggan futher up on the moors is very small and very isolated. The village church was one of the few on the moors to have a spire, until in 1818 when it was struck by lightning. In 1931 the locally infamous Frederick Densham was appointed rector and almost immediately upset his parishioners. They objected to his high handed approach on parish matters and he further upset local farmers by raising a litter of puppies and allowing them to run free on the moor and worry sheep. He then painted the inside walls of the church red, yellow and blue which further upset the locals.
Things went from bad to worse. Densham decorated the rooms of the rectory with scenes from the bible lands and erected a barbed wire fence around the grounds to keep out unwanted visitors. Finally, his parishioners vowed never to return to the church as long as he remained there, but Densham still took his ecclesiastical duties seriously.In the absence of any congregation he preached instead to pews filled with cardboard cutouts representing former rectors of the parish.
His sermon for Christmas day 1952 took as its theme "God is Love" and since, as on all other days of the year not one single person attended the service, Densham preached to his cardboard congregation instead. Shortly after giving interviews to a local paper and the american magazine 'Life' about his solitary existence Densham died at the rectory. It was over a week before he was missed. A week later a new rector arrived at Warleggan and once again the Church was filled with people.
Places of interest
Carnglaze slate Caverns ~ St Neot

three underground caverns set in 6.5 acres of wooded hillside. Take a guided tour, which lasts for about 45 minutes, through the three unique centuries old caverns of cathedral proportions, hand created by local slate miners