Linkinhorne, Minions & St Ive
At over 1000ft Minions is a village with a moor flowing through it. Surrounded on nearly all sides by moorland, sheep and ponies can and do wander through the village which owes its presence in the main to the intense mining activity during the last century. The Liskeard-Cardon railway passed within a few hundred yards of these workers cottages.
Minions, Linkinhorne and the villages around prospered greatly during the middle of the 19th century when Captain Jack Clymo discovered a small vein of copper ore and by 1863 over 4000 men, women and children were employed in the twenty or so mines surrounding Caradon. Many of the derelect engine houses with their characteristic chimneys litter the moor and can be seen today.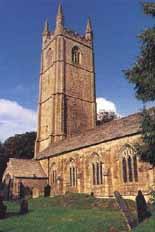 Nearby village of Minions are two of Bodmin Moors most famous landmarks. The Hurlers, three bronze age stone circles which local legend has were men turned to stone for playing the Cornish game of hurling on the Sabbath and The Cheeswring a precariously-balanced pile of large granite rocks in the pinnacle of Stowe's Hill.
The parish church St Melor's in Linkinhorne boast the second highest tower of any church in Cornwall and dates in the main from the 15th Century. Nearby in the village ther is also a small Holy Well dating from the same era.
Village Pages
The Linkinhorne Parish Pages

Everything you need to know about the parish. What has happened in the past, what is happening today and what is planned for the future.
Local History
The South Caradon Mine Home Page

The Home page for the disused South Caradon Mine, an important industial history site. Contains photographs of the engine house remains

The Minions Centre

The Complete Official Guide to South East Cornwall, including details of Caradons Countryside Services Minions Heritage Centre
Places of interest
The Cheese Farm

Home of the famous Cornish Yarg. Guided tours of the dairy, cheese tasting, nature trails, picnic orchard, children's play area, gift shop and tea room. Something for everyone, whatever the weather
The Arts & Local Artists
Sterts Art & Environmental Centre

See what goes on and what facilities we have on offer and view Spring and Summer programmes of exciting events