Cardinham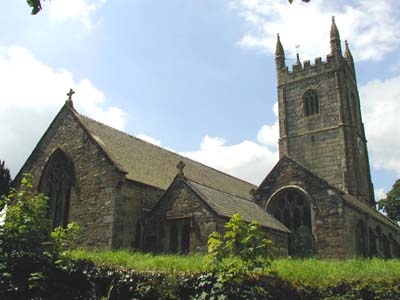 The parish contains a collection of small villages, namely Cardinham, Millpool and Mount. Cardinham itself has a fine church dedicated to St Meubred who was an Irish missionary who came over to preach to the moorland folk but ended up being beheaded in Rome (his body was returned to the parish and buried here). The church, which was damaged by bombs that were intended for Bodmin during the war, contains some fine benchends and an unusual 15th century brass plaque dedicated to one of the earliest rectors - Thomas Awmarie. The charming inscription translated says 'I ask you, brothers, to pray for me and I will pray for you as much as I can'. The churchyard contains a couple of particularly fine Cornish crosses one of which dates from the 8th Century.
Cardinham Castle is a fortress built in 1080 by the Sheriff of Cornwall for the then Earl of Cornwall, Robert de Mortain who was William the Conqueror's half-brother. Not content with the estates he already owned after the Norman Conquest of 1066 he also seized much of the land in the parish which had formally belonged to the priory in Bodmin. This was very unpoplular with the locals and so he built the fortress to keep the moorland folk subdued. At this time he also built castles at Lostwithiel and Launceston where he resided. The site of the fortress can be visited with permission of the landowner.
At the other end of the parish is St Bellarmin's Tor on which there are the remains of a small chapel dedicated to St Bartholomew who reputedly lived and preached there. It is a lovely spot and can be reached by a track which leaves from the village of Millpool opposite the telephone box.
Places of interest
Cornwall Flying Club

All the relevant details about the airfield, training, lessons, and aircraft for hire

~

Pinsla Garden & Nursery - Cardinham

A magical space full of intense scent and colour surrounded by wild Cornish woodland. Enter a dreamscape as you lose yourself in winding paths lined with granite boulders and set with slate, beach stone and incised abstract patterns

~

Cardinham Woods

a popular destination for cyclists of all kinds. Cycling is permitted on all the many miles of gravel tracks, so whether you want to ride gently beside the river, or try a more adventurous route on the steep valley sides, you will find the right conditions at Cardinham