Altarnun & Five Lanes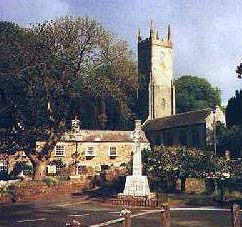 'The Cathedral of the Moors' - the church dedicated to St Nonna with its tall 109ft tower dominates the picturesque village of Altarnun. Inside the visitor can also find a Norman font and a series of 79 remarkable wooden bench ends which were carved by local craftsman Robert Daye between 1510 and 1530 and depict both Christian and local subjects. The rest of the village is separated from the church by the Penpont Water which can be crossed by either of two bridges.
Although the parish is the largest on the moors and contains much open moorland, the village itself is situated in a sheltered valley. In amongst the houses also stands the former Methodist chapel (now a private house) which displays the carved head of John Wesley produced by Altarnun's most famous son, Neville Northey Burnard. Born in 1818 in Altarnun, Burnard had an illustrious career as a sculptor which resulted in his work being exhibited in the Royal Academy and himself being personally introduced to Queen Victoria and Prince Albert. Sadly though after the tragic loss of his daughter he turned to drink and his wife left him. He returned to Cornwall only to die in a Redruth poorhouse and was buried in a paupers grave in Camborne.
A little way up the road are two hamlets - Five Lanes & Trewint. Until recent times, Five Lanes was the home of the only moorland livestock market but now only contains a pub ('The Kings Head' - an old coaching inn built in 1623), a village school and a few houses. A little further down the road Trewint contains a cottage that was frequented by John Wesley and other Methodist preachers from 1743 onwards. The cottage was occupied at the time by Digory and Elizabeth Isbell who took in two of Wesleys agents who where stranded on the moors. A year later Wesley himself stayed there and Digory extended the house to incorporate a small chapel and rooms for travelling Methodists. The property now belongs to the Methodist church and is open to the public.
Village Pages
Wesley Cottage Museum ~ Trewint

the former home of Digory and Elizabeth Isbell who entertained John Wesley, the founder of Methodism, on some of his visits to Cornwall in the mid 18th century
Local Business
Tarps.co.uk - Five Lanes

Discount tarpaulins by mail order
Our tarpaulins are made from polypropylene coated fabric. They are extremely STRONG, FULLY WEATHERPROOF, TEARPROOF, ROTPROOF, LIGHT and EASY to handle!
Local Artist
Robin Paris

Batik paintings and workshops by local artist - wildlife and environmental themes