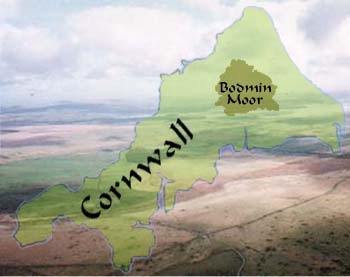 First farmed over 4000 years ago by bronze age settlers Bodmin Moor is of one the last great unspoilt areas in the South West and much of its prehistoric and medieval past remains untouched by the passing of the centuries.
The Moor is dominated by dramatic granite tors which tower over the sweeping expanses of open moorland. Marshes and bogs on the high moor drain into shallow moorland valleys before the rivers cross onto softer shales around the Moor and carve themselves deep river valleys, providing shelter for rich, damp oak woodland.
Historically, Bodmin Moor was a landscape which engendered fear and awe, but which has also provided inspiration for writers, poets and sculptors. It has generated folklore and legend, with fact and fiction at times blending into one another as tales were passed down over the generations.
This site intends to provide Bodmin Moor and the people who live and work here with a home on the internet and will provide anyone with an interest in the area or who intends to visit with all the information they need. The site will be split into four main areas accessed through the menu at the bottom of each page. These are -
To bookmark this site please click here. These pages are constantly being updated and are well worth a return visit.
Bodmin Moor is a very special area ~ please browse and enjoy
I would like to thank the following organisations for contributing material for this site