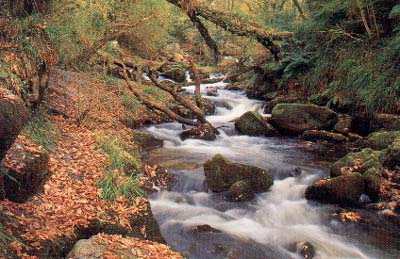 Golitha falls
St Neot (SX 223684)
Golitha National Nature Reserve is situated within a deep, tree clad, granite gorge on the southern edge of Bodmin Moor. The gorge has been formed over the last 100 centuries by the River Fowey.
This small woodland reserve of 12 hectares is a well known beauty spot. The series of rapids and waterfalls were apparently far more spectacular than they are now.. Originally a large boulder - the Golitha Stone (Golitha means obstacle)- blocked part of the river. This was blasted in the 19th century to allow salmon further upstream to spawn.
Oak woodland makes up the majority of the reserve. It is a diverse environment which provides shelter and food for many birds, insects and plants. These woods were first recorded in the Domesday book in 1083 and it is quite likely that they existed long before this.
Many thanks to English Nature for all of the information on this page.