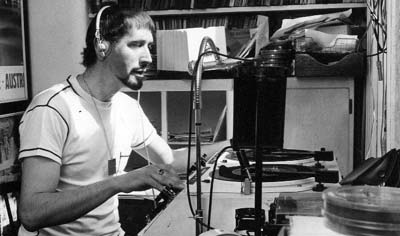 MIKE RAVEN, who has died aged 72, was one of the first broadcasters of Britain's pirate radio boom in the 1960s.
Born Austin Fairman, he adopted the name Mike Raven for his work as a disc jockey for Radio Atlanta, along with Radio Caroline, the first off-shore pirate radio station. Raven's cousin, the Liberal MP Oliver Smedley, was a founder of Atlanta, which broadcast from the vessel Mi Amigo, registered in Panama and moored off Frinton-on-Sea.
At first, shows were recorded on tape on land and then transmitted from the ship, just outside the three-mile limit.
After the merge of Caroline and Atlanta, Raven moved to Radio Invicta. Equipped with primitive transmitters, an unreliable generator and even less reliable food supplies, this was based in a wartime defence tower standing precariously 80ft above the shifting Red Sands sandbank at the mouth of the Thames estuary.
In due course this became King Radio, and then Radio 390, for which Raven presented his popular late-night rhythm and blues show Raven Around, as well as hosting a breakfast programme with his second wife Mandy.
Raven's hopes of lobbying the Government to legalise the pirates through Oliver Smedley foundered in 1966. Smedley had become embroiled in a battle with several rival stations, and then shot and killed an intruder at his house. The dead man turned out to be the flamboyant radio entrepreneur, Reg Calvert. Smedley was acquitted at his trial on grounds of self-defence.
Raven immediately left Radio 390 and spent a brief time with Radio Luxembourg. In the autumn of 1967, along with John Peel, he joined the BBC under Robin Scott, the controller of the Light Programme, who was in charge of the launching of Radio One and Radio Two.
Raven instantly became a household name when he disc jockeyed on the day of Radio 1's launch. The Mike Raven Blues Show ran on Radio 1 from October 1967 to November 1971.
Originally a half-hour show, it was extended to two hours, allowing Raven to indulge his passion for the music of the deep South and the poor inner cities of America.
Raven was also an actor, farmer and sculptor. His carved sculptures in stone and wood, depicting religious themes, have recently begun to achieve recognition.
The son of actor parents, Austin Churton Fairman was born in London on Nov 15 1924. From Aldenham School he went up to Magdalen College, Oxford. His time there was interrupted by the Second World War, when he served as a lieutenant in the Royal Ulster Rifles.
He had a spell as a ballet dancer with the Ballet Rambert, then turned to taking photographs of the ballet.
In 1952 he published Another Spain, an account of Spain's undiscovered countryside, where he had travelled with his wife Aurelia, whom he had married in 1949.
While in Spain, Raven met the director Peter Brook. This led to his becoming an actor and director, and for most of the next 10 years he worked with ITV on drama series. After the demise of Stars on Sunday he presented the Ten Commandments and its successor Songs That Matter, as well as having a hand in ATV's weekday Epilogue slots.
Always dressed in black, often with a matching cloak, Raven was a striking figure. He appeared in several horror films, including Hammer's Lust for a Vampire (1971) and Discipline of Death (1972).
He retired from radio in 1971. Two years later he moved with his family to Cornwall, where he began to carve in wood and stone. In 1980 he moved to Bodmin Moor, where with no previous experience he began sheep farming. Over the next two decades he and his wife established a successful farm.
Reverting to his real name, he continued to sculpt, and used the medium to explore his Christian beliefs. When he developed a heart condition he gave up farming to concentrate on art, but determined not to sell any work until he had enough for an exhibition.
After a series of mishaps involving sponsors and sources of encouragement - such as the death of the critic Peter Fuller in a motor accident - Raven had his first exhibition, in Cornwall. The work was later shown in the crypt of St George's Church, Bloomsbury, in 1990 and 1992.
His sculpture, The Deposition from the Cross, was later shown, alongside work by Henry Moore, in Images of Christ, a survey of 20th century religious iconography at Northampton and St Paul's Cathedral, London.
He had commissions from Germany, Sweden and France, and recently saw his work go on permanent display in the Penzance Gallery, Penzance.
Mike Raven was an accomplished rider. He was well read, particularly on theological subjects.
He married first, in 1949, Aurelia Pascual y Perez; they had one son and three daughters. He married secondly, in 1964, Mandy Kilbey; they had two sons.